Many organisations are beginning to see the automation of operations and processes as a necessity in its own right. When implementing change, it is important to empower prepared data, so that analysts and managers can use it to gain valuable insights about avenues for future growth.
More effective cost management, the ability to eliminate human error and quicker decision-making through piecing data together are just a few of the many advantages of automation and data enablement.
In today's world, digitalised data is becoming not only an investment, but also a step towards a new operating model, where the data is effectively empowered by employing a range of tools to help not only in making analysis- and data-driven automated decisions, but also for the purposes of process automation and the Internet of Things.
The capability of data empowerment is also important for assessing internal and external facts such as weather forecasts and event calendars, as well as demographic or other indicators related to the company's main activity, thus providing a more detailed situational analysis. Moreover, an organisation may select various automation capabilities that meet their specific needs – ranging from so-called quick low-code solutions to custom-built information systems.
Rising demand for quick automation solutions
"Recently, we have observed a rising demand for quickly built automation solutions, which is exactly what so-called low-code solutions have brought to the table," said Paulius Skamarakas, Director of Commerce at Novian Systems. He explained that the reason businesses find such solutions valuable is not only the fact that they help optimise processes and achieve a new level of efficiency, but they are also easily adaptable to organisations of different sizes.
The automation of processes can also help address the increasingly pressing issue of labour shortages, by leaving certain tasks for programs to handle. This also enables the employees to use their time and skills for the more important tasks, instead of performing technical work that does not add value.
Moreover, as Skamarakas pointed out, the automation of processes essentially involves data digitalisation and the preparation for general data processing. "In the future, this kind of data preparation can lay the groundwork for data empowerment through the creation of new apps or by digitising the entirety of an organisation's operations," he said.
According to Skamarakas, another feature that makes low-code solutions convenient is the fact they can be adapted to meet an organisation's specific needs. Compared to applied information systems, low-code solutions take much less time to build, which is a highly relevant consideration in today's fast-paced world. This is exactly the kind of customised solution that Novian Systems has built for Tolimojo Keleivinio Transporto Kompanija (TOKS).
Aiming for swift reactions
In recent years, TOKS, which operates 42 intercity and 6 international bus routes, has been faced with challenges resulting from the pandemic. The lockdown restrictions within the country have resulted in significantly lower passenger traffic and increased competition among carriers.
According to Arūnas Indrašius, CEO at TOKS, the decision to review the business processes and automate them wherever possible was made even prior to the pandemic. "Our aim was to shorten the time various procedures take to perform, eliminate the possibility of human error and, after being presented with data in a timely manner, make swift and sensible decisions," the CEO said.
According to Indrašius, the pandemic has only sped up this process. "We were already half-way through with the implementation of business analytics tools, which allowed us to monitor and manage our income from all intercity routes even in the midst of this tense and constantly changing situation," Indrašius said.
Necessary solutions without delay
According to Indrašius, a reduction of demand from outside the country made most carriers seek additional business opportunities within Lithuania. "The situation at that time was very tense, given the increased supply and reduced demand for transportation services," he recounted.
Indrašius pointed out that it was due to the effective business analysis tools at their disposal that the company was able to swiftly respond to these extraordinary circumstances.
"The implementation of a business analysis instrument provided us with timely reports on our sales data, which is an essential part of our decision-making process. Each of our routes has pre-defined goals and indicators that we aim to meet. Once the responsible employees have all the relevant information, they are able to manage the loads of our vehicles, profitability of our directions and routes," he said.
"The recent summer season saw droves of passengers going to the seaside, which has been a saving grace for the businesses in our sector. With passenger traffic information available to us along the entire route and under our control, we were well-equipped to make decisions regarding the resumption of services or additions of new routes," Indrašius explained.
In response to reductions in passenger traffic, lower-capacity buses can be sent out, thus reducing our fuel costs, which comprise up to 40% of the company's expenditure.
Plans to expand the system in the future
According to Indrašius, the lockdown was a good time to start using an analysis instrument, because the analytical information that was supplied in real time during a highly volatile period allowed the company to optimise its operations.
After examining the many business analytics tools available on the market, TOKS decided to go with Microsoft Power BI, because it is used by passenger transport companies around the world. In addition, it can be integrated with the systems already used by the company and the Power Apps instruments, which will be needed for the solutions planned to be implemented in the future.
The analyses prepared by the instrument implemented by Novian Systems also show the changes occurring in Lithuania's demographic situation, and the relative importance of certain segments of the company's routes. Accurate statistical information is allowing the carrier to initiate revisions in its routes.
"The implementation of this analysis instrument is only the first stage in the development of the system we are planning to build. We are hoping to implement a system that will, through self-monitoring, be able to notify us about problems in our processes. With all the relevant data at our disposal, this will put us in a position to make well-grounded decisions," Indrašius said.
He emphasised that the company's ambitious plans required an IT partner capable of matching them. It was the experience and expertise of its employees that became the decisive factors in choosing to work with Acena, a business analytics and process automation company acquired by Novian Systems this year with a view to expanding its range of software services.
Business-focused insights
According to Skamarakas, a key advantage of Microsoft Power BI that is especially relevant for today's organisations is its capacity to easily access different sources of information and create interactive reports. In addition, using Microsoft Power BI allows a company to eliminate the potential for human error when manually entering data, which can later be processed using products offered by the Microsoft Power Platform. With some additional programming, this data can easily be integrated with other information systems.
"The crucial point is that by using this tool, a company is provided with the insights needed to make decisions informed by a data analysis. Correct and timely decisions can improve an organisation's operational efficiency and give it a competitive advantage, as well as allowing it to react to the changing environment more quickly – which is exactly what we have seen with TOKS," Skamarakas said.
One of the key challenges in implementing an instrument that would meet the needs of TOKS was combining different data from several types of system into one model, so that this data could be quickly and conveniently presented and organised in a way relevant to the company.
As a result, employees in the Traffic Department at TOKS are able to analyse the results from the previous day's routes, which are organised by the income generated, number of passengers, income per kilometre and the profitability of individual segments along a given route. This helps them to quickly react to changes in the passenger traffic and adjust the size of the transport vehicle accordingly.
However, the true benefits and payback of investing in this instrument will be seen in the future, Skamarakas explained, once the business analytics system has been fully integrated with the ERP system used by TOKS. As a result, they will know the profitability of each segment on a route with a higher degree of accuracy.
Novian offers integrated IT solutions
According to Skamarakas, one of the advantages that Novian offers its clients is a much wider spectrum of IT services. This is possible because its personnel have expertise in areas including software services, IT infrastructure maintenance and digitisation technologies. The companies operating as part of the Novian group have extensive experience in combining classic and cutting-edge technological solutions.
"We are not only able to offer individual solutions for optimising data collection, generating reports, developing apps or information systems, but are also able to assess whether the implementation of new programs will impact the functioning of the existing IT infrastructure and renew it as needed. We also provide document digitisation solutions, which are of particular relevance to organisations that, for example, are seeking to build a unified digitised customer service system or that need this data for their other activities," said Skamarakas.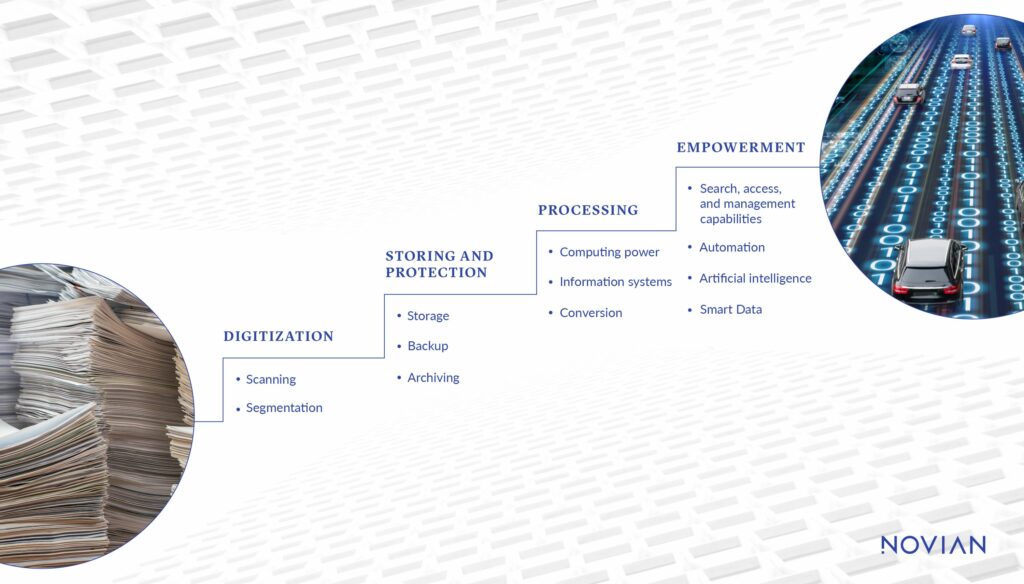 With digitisation picking up speed, the companies included in the Novian group have joined forces. Since the end of 2020, they have been offering clients a joint IT solution based on their specific needs – ranging from city, country or area-specific software or document digitisation to IT infrastructure development and maintenance.
The Novian group is comprised of Novian Systems (that was known as Algoritmų Sistemos until the end of 2020), which specialises in software services, as well as Novian Technologies (known as BAIP until the end of 2020) that specialises in IT infrastructure services, in addition to other companies in Estonia and Norway with expertise in digitisation and other fields.
The group's companies are based in the Baltics, Norway and Moldova, to serve clients and implement projects across the globe. Between 2016 and 2021, the projects implemented by the Novian group of companies spanned more than 50 countries in Europe, Africa, Asia and America.
Companies in the Novian group implement projects in fields that include private enterprise, e-government, e-health, e-taxation and AI solutions. The Novian group also uses the possibilities emerging from new technologies for solutions related to climate change, weather forecasting, and the deployment of supercomputers and data-centre systems.
Source: vz.lt.